Today we are going to explain how to trim your plants with the FIM and Lollipopping techniques.
The FIM also called Fuck I Missed is a method that appeared accidentally while doing the topping of the plants. Before starting we recommend you to try only in few plants because not all the variety of plants reacts the same, and not all the growers agree with this technique.
Grab a small scissors and start cutting a little part on the extremity of the new growth on the main stem. Make sure you don't cut too much otherwise it will be the classical topping. This accidental way of topping your plant by letting a small inch, will allow the plant to produce 6 to 8 other plants from the cut. The most important factor is to know the variety of the plant and see how she will react.
Let see know the lollipopping.
To make this Trim technique you will need at least a plant with 15 cm – 20 cm with many leaves on the steam of the plant. The idea is to focus the energy of the plant by removing the leaves that will not help the active growing.  Pinch the steam and remove with your fingers all the leaves along it, don't worry if you see a liquid it's only water. Make sure that you don't break the steam! Do the operation many times during the growing process.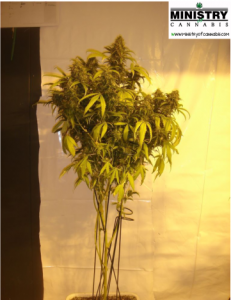 Find the bests feminized & autoflowering seeds here